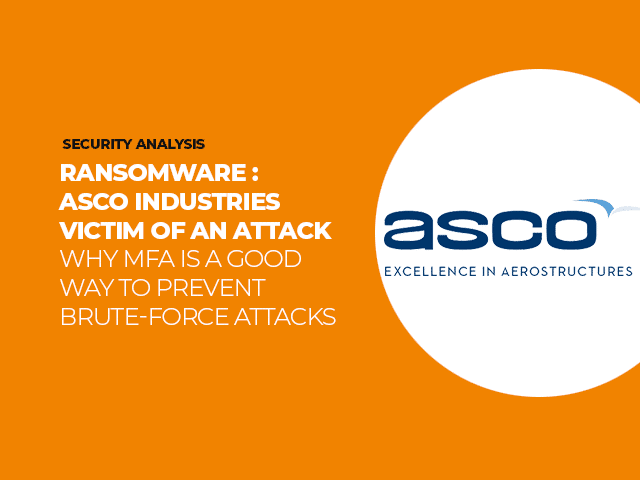 Ransomware Asco industries victim of an attack
Ransomware Asco industries victim of an attack
Aircraft equipment manufacturer ASCO Industries, located in Zaventem, is at a standstill. The group, which makes parts for the giants Boeing and Airbus, among others, was a victim of hacking on Friday. And all production at the international level is stopped, in Belgium, but also in subsidiaries in Germany, the United States and Canada. Only on the site of Zaventem, there are more than 1000 people who are unemployed, Tuesday and Wednesday.
Unlike aluminum producer Norsk Hydro, who was hit by a similar ransomware attack earlier this year and provided constant updates about the incident, ASCO has been very quiet about its dealings. The name of the ransomware strain that infected the company's Belgium plant was not made public.
How MFA can prevent ransomware attacks?
Ransomware is the fastest growing attack-vector targeting all sorts of companies, institutions and organizations. Ransomware is a type of malware that accesses a victim's files, locks and encrypts them and then demands the victim to pay a ransom to get them back. Ransomware is the digital version of mafia demands for protection money or is like the "digital kidnapping" of valuable data – from personal photos and memories to client information, financial records and intellectual property. Most ransomware gain access through hijacking static passwords and among the best practices to mitigate against such attacks adopting stronger authentication with two-factor authentication is one of the best. Passwords are convenient and tried-and-tested when it comes to securing your online accounts and digital data. However, the major downside is their susceptibility to being stolen using spyware or through trickery. The use of two-factor authentication (2FA), however, is a good defense against account compromise because it adds another layer of protection after your password, usually by combining one factor (your password) with a second factor (a text message/verification code sent to your cell phone number or a push).