OpenOTP Mobile Badging Time Clock Calculator
Introducing
OpenOTP Mobile Badging
Your compliant time clock for office & remote work!
The regulation on remote work is constantly changing.
Companies are adapting & looking for the most efficient employee time/location managing tool.
OpenOTP Mobile Badging
Taking time-clocking to a whole new level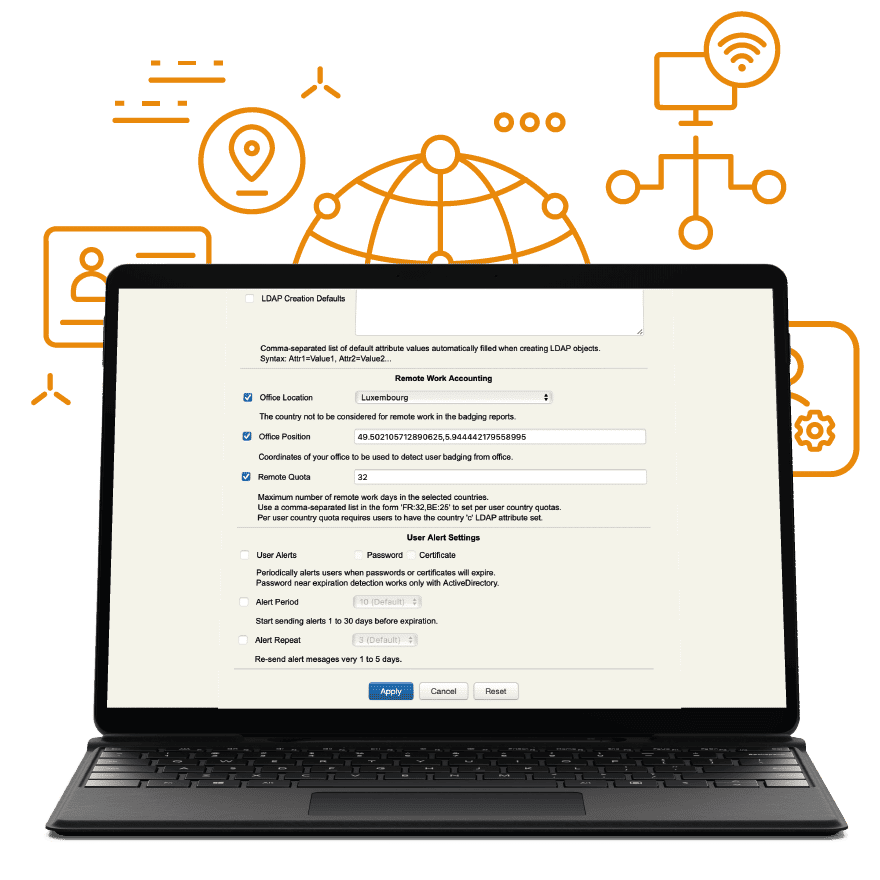 European cross-border employees
working remotely
Location accuracy & proof
Employee location management can be a headache for your HR department, especially for cross-border employees working remotely or for anyone doing some work outside of the office. With OpenOTP Mobile Badging, employees can easily and securely badge-in and out, using their mobile phone.
All the collected data is timestamped using the local CA in XADES or using eIDAS. Proof of location cannot be repudiated.

Monitoring & Reporting
Easily manage your employees' allowed remote work time, according to each country's legislation. Setting filters, viewing on a map, exporting are some of the multiple fonctions of this feature.
Extra Network Security
Implement the Badging feature to protect access to your network. Set a policy that forbids access to your resources if an employee has not badged or checked-in or grant access for x amount time per badging. This extra layer of security combined with MFA enhances your network security.
Identity & Access Management
Through the WebADM IAM platform, set rules and policies according to your company and employee requirements. Set badging restrictions per user or per group.
Decide which type of data is collected to be GDPR compliant.
Multi-office location supported
OpenOTP Mobile Badging is perfect for companies with multiple offices. Whether in different countries or cities, keep track of employees and set policies according to each country's regulation.
OpenOTP Token App
Our free OpenOTP Token App is required to badge-in or check-in. Combining convenience with elegance, badging has never been this simple and reliable.