Software Tokens
Compatible Software Tokens
RCDevs recommends using software mobile apps
as the authentication device. Here are a few reasons why!

Leverage in security (strong 2FA)
No costs from lost/stolen/broken tokens
Easy renew/upgrade of tokens
No dedicated token hardware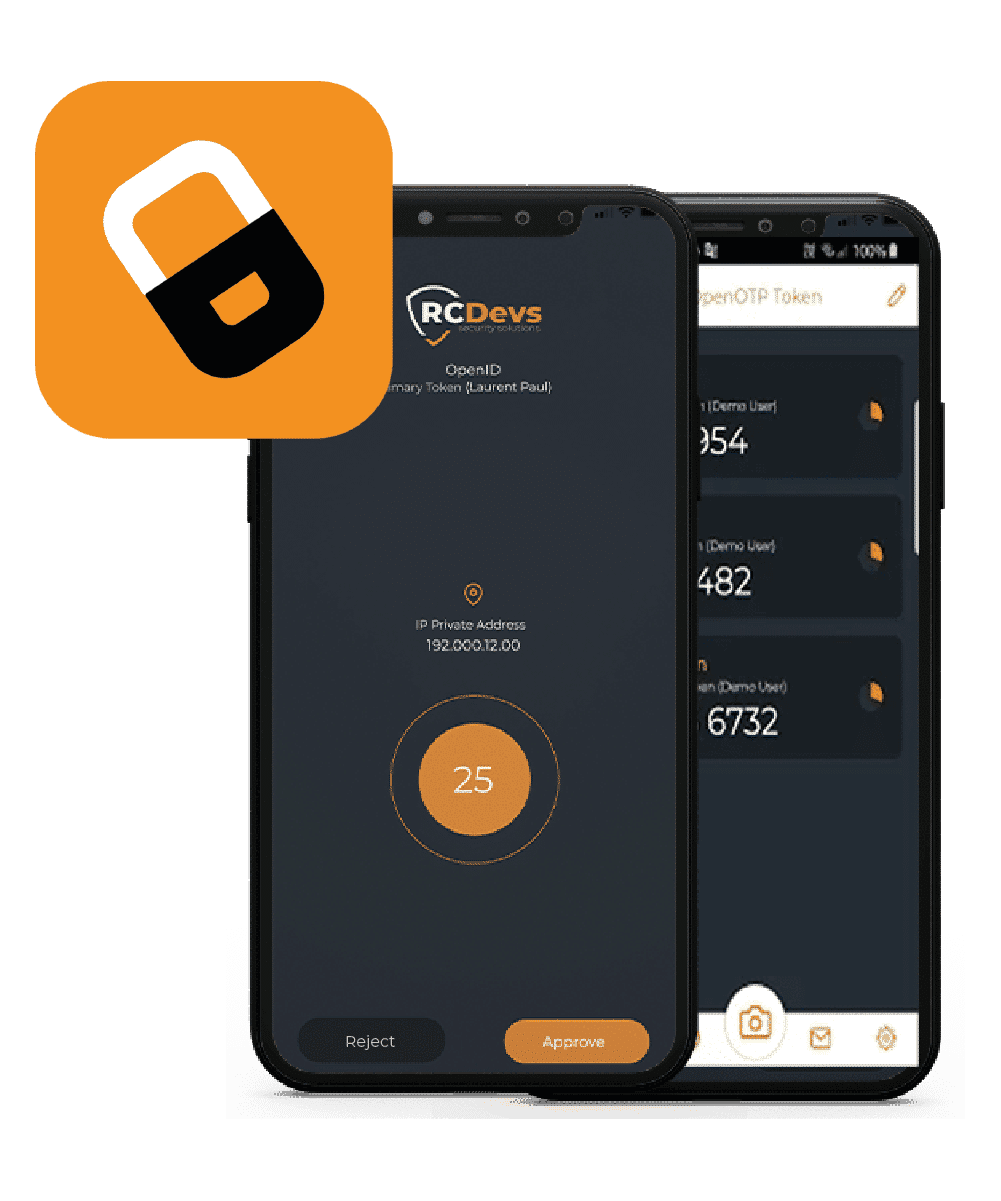 OpenOTP Token
Official App for OpenOTP Security Suite
OpenOTP Token for iOS and Android is the official mobile Token application to use
with OpenOTP Security Suite and YumiSign.com.
OpenOTP Token can be used instead of other software tokens (i.e. Google or MS Authenticator).
Main Features
Push Notifications: Accept/Deny login notifications (OpenOTP Security Suite required)
6 or 8 Digits OTPs (for any third-party cloud services or applications)
OATH Time-based (TOTP) & Event-based (HOTP) Tokens
QR code & manually enrolled Tokens
Anti-phishing, Geo-mapping & Biometric Protection
Accept/Deny eSignature requests (OpenOTP eSignature Server required)
Accept/Deny eSignature requests (Free YumiSign.com account required)
Voice Biometrics OTP (OpenOTP Security Suite required with Voice biometric option purchased)
Other Compatible Software Tokens
This is a list of FREE Software Tokens compatible with OpenOTP from various publishers.



Google Authenticator
Platform: iOS, Android, Blackberry

Type: OATH Event-based (HOTP) & Time-based (TOTP)

One-time passcodes are generated using open standards developed by the Initiative for Open Authentication (OATH). Google Authenticator supports multiple accounts, key provisioning via scanning a barecode, manual key entry of RFC 3548 base32 key strings.



FreeOTP Authenticator
Type: OATH Event-based (HOTP) & Time-based (TOTP)

FreeOTP adds a second layer of security for your online accounts. This works by generating one-time passwords on your mobile devices which can be used in conjunction with your normal password to make your login nearly impossible to hack.



Microsoft Authenticator
Type: Push notifications with One-Tap login, OATH Event-based (HOTP) & Time-based (TOTP)

A Windows Phone OATH Software Token designed to be a replacement for Google Authenticator. It supports QR Scan and the same features as Google Authenticator for Android/IOS.



Authomator
Type: Push notifications with One-Tap login, OATH Event-based (HOTP) & Time-based (TOTP)

With Authomator, you can quickly generate two-factor authentication codes for your favorite services that use two-step verification on your BlackBerry 10 device.


OATH Token
Type: OATH Event-based (HOTP) & Time-based (TOTP)

OATH Token is a free and open-source software token for two-factor authentication on the iPhone. OATH Token implements the RFC 4226 HOTP/OATH algorithm standard and is not tied to any proprietary server software. Multiple tokens are supported and may be fully configured as event-based or time-based. Tokens can be fully edited at any time, until if and when put in lockdown mode, after which editing is permanently disabled.



Mobile-OTP Token
Platform: Java Phones, Windows Mobile, iOS, Blackberry, Android

Mobile-OTP is a free 'strong authentication' solution for java capable mobile devices like phones or PDAs. It supports sending the secret key by email from the application when you use mOTP for the first time.
You are an OATH Software Token Developper
& would like to be listed as an OpenOTP compatible software
Choose the method that best suits you
Authentication Methods
Strong Authentication login technologies supported by OpenOTP Security Suite